2nd Chance to Shine Nonprofit Program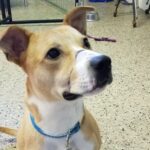 As many of you know, Fun Fur Pets offers training classes for dogs and their owners, day training and board and train programs, However many people are not aware of that we also provide basic manners training and social rehabilitation to several dogs who are currently in rescue. These dogs need a few skills before they are ready to find their forever home.  These dogs are referred to our 2nd Chance to Shine program by rescues from throughout the Midwest. Dogs come to us with various training needs and some just need a place to decompress and learn how to be a dog and trust people. Common rehab/training needs are:
Poor socialization with other dogs,
Bad experiences with human and/or dogs,
Trust issues with humans/stranger danger
Sometimes just need a lot of basic obedience like jumping, leash walking and household manners.
These dogs live at our facility and we act as a foster for the dog. Our staff work with each dog daily to improve their adoptability, build confidence and help them learn how to have fun.
This means we supply all of their food and treats. We provide all of their food, training treats, bedding, enrichment toys, love and entertainment. We are in constant need of the following items:
Rachel Ray Beef flavor dry dog food
Rachel Ray Grain Free dry dog food
Hot dogs
Individually packaged string cheese
Plain Milk Bones
Soft Training Treats (preferably Cloud Star Tricky Trainer Training Treats)
Large and XL Kuranda dog beds (preferably Aluminum)
How can you help?
We know everyone is experiencing some of the same challenges. If you find you are willing and able to help our mission of rehabilitating these dogs and giving them a "Second Chance to Shine",You can 
Purchase online and have it shipped to Fun Fur Pets
Purchase and drop off – call us and we will meet you outside and unload it from your car

PayPal donation to trainerffp@gmail.com
Thank you so much for your support.