Separation Anxiety Treatment – Calmer Canine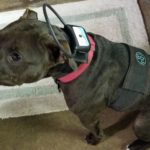 For the last few months, we have been working with Reba, a 6-7 yr old Pitbull that came into rescue pregnant for the who knows how many times. Reba is a super friendly, people loving girl. She is cuddly, friendly and loves to snuggle. Reba has one HUGE challenge, she has SEVERE separation anxiety. Reba's separation anxiety did not reveal itself until she moved into a foster home without other dogs. It was very apparent she had severe anxiety when her foster mom experienced some significant destruction in the house while she was gone. 
Separation Anxiety Techniques We Tried
Music on classical

Kennel

TV left on

Calming sprays

Nutraceuticals

Straw method
None helped. When Reba was at our daycare and training facility kenneled in straw she was fine. We tried to replicate this at the foster home and it did not work. We finally determined she was okay if there was another dog in the room. However Reba is not super dog friendly. She is okay with dogs that leave her alone but definitely not a dog we would want to house with just any dog. We have been managing Reba's separation anxiety by kenneling her at our facility in a room with another dog. They are in kennels next to each other and that works great, but that is a tough scenario to find in a forever home.
Calmer Canine Research
After doing lots of research on options and ideas, I discovered a new device being marketed for separation anxiety, Calmer Canine (https://www.calmerk9.com/). I read through the website and then found the research (https://assisianimalhealth.com/calmer-canine-research/) and read through it. I was intrigued. After taking the Separation Anxiety Quiz (https://www.calmerk9.com/separation-anxiety-quiz/) and reading the results, I decided to try Calmer Canine. One reason I wanted to try the Calmer Canine is the work we do with many types of anxiety. I felt this could be an option for our clients who do not want to try anxiety medications.
"Calmer Canine device delivers targeted pulsed electromagnetic field (tPEMF) signals to the area of the brain responsible for causing the symptoms of anxiety. It effectively returns the anxious brain to a more balanced emotional state with long-lasting effects. Early evidence suggests that Calmer Canine may also help dogs with other anxieties and fears, such as thunder phobia, noise sensitivity,travel anxiety, general anxiety, and situational anxiety. Calmer Canine has been proven to work alone without other treatments or training and is safe to use with other solutions for anxiety, such as medications." (Source: https://assisianimalhealth.com/calmer-canine/)
Calmer Canine Treatments
On March 3rd, I began Reba's twice daily treatments. Each treatment lasts 15 minutes. The device is self-timing, we sit in her kennel during her treatment. In the week I have been administering her treatments I have noticed several different reactions which I am not sure are a result of the treatment or just Reba's daily reactions.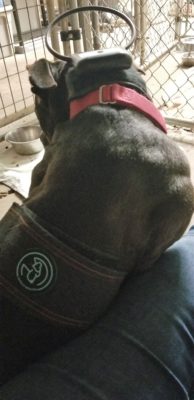 She was pretty anxious the first 5-10 minutes of each treatment but would settle down and curl up in my lap for the last part of the treatment.

She appears more settled with the treatments as she grows accustomed to them.

Some days she is more anxious and paces longer than other days. 
I will say in reviewing my treatment log notes, I am noticing Reba is calmer before, during and after treatments. I feel she is adjusting to the routine and enjoys the "snuggle" time. We have not changed any of her other routine or environment. Reba still has a dog in the room with her at all times and will for now. The suggested treatment plan is 4 to 6 weeks so it will be a 3 weeks or so before we consider removing her "roommate" for any length of time.