Separation Anxiety – Calmer Canine Progress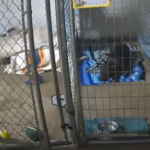 Reba came to live at Fun Fur Pets in January due to her EXTREME separation anxiety. After Reba raised her last litter of puppies, New Leash on Life Dog Rescue knew she was ready for a life of leisure and the center of attention. A foster home was found where she would be an only pet which sounded perfect for Reba. Reba was great until her foster mom left the house and then the anxiety became apparent. She did some major damage to her foster's home including breaking the glass stove top and breaking out of two heavy-duty crates. 
We tried several techniques and the only thing that worked was to have another dog in the kennel next to her. (Separation Anxiety Treatment – Calmer Canine from March 18, 2020)
During her stay at Fun Fur Pets, she has had a few different "neighbors". She has done fine with each dog. So she is not picky, she just WANTS a neighbor. Every time we removed Reba's neighbor, leaving Reba alone, she would bark constantly and sometimes jump at the door of her kennel. 
The following is a recording on January 6, 2020 shows Reba's typical response to being left alone (This video was recorded upon the return of her neighbor dog after a potty break)
January 6, 2020
You will notice Reba's neighbor dog is present and she is still agitated. Abby, the neighbor had just been brought back to her kennel after a potty break. 
Crate Training
Reba was not a fan of the crate. You will see in the various videos that she initially avoids being in the crate. At the end of January, one of our volunteers agreed to work with Reba on making her comfortable in a crate. Over several months Reba has grown to not only tolerate the crate but to seek out the crate as a place to sleep and find comfort/settle. She is still not a fan of having the crate door closed but she will tolerate it if someone is in the room. We have not tried closing the crate door with just another dog in the room as we want her to continue to feel the crate is a place of comfort and safety. This has taken months of patience and baby steps so we do not want to undo all of that work. 
March 3, 2020 Calmer Canine Treatment Starts
Reba's Calmer Canine treatments were started. Treatments are twice per day8 to 10 hours apart for 15 minutes each treatment. The treatments are administered in her kennel. The person administering the treatment will either sit in the kennel with her during the treatment or carry out other duties in the general vicinity of Reba's kennel so that she can be watched.
April 7, 2020 – A Separation Anxiety Test
After 5 weeks of Calmer Canine treatments for Reba. On April 7th, we decided to put Maple, her current neighbor, in daycare and watch Reba's Reaction
This is immediately following Maple being removed from her kennel next to Reba at 9:30am
April 7th, 12:18pm
Reba was in her kennel for about 45 minutes and then a volunteer came to take her on an outing. Reba was out of the facility with the volunteer for about 2 hours. This next video is when she was returned to her kennel after her outing. Note she is more anxious this time than she was initially and barks more.
April 7th 12:26pm
April 7th 12:28pm
April 7th 1:44pm
"What did you do differently?"
When we shared these videos, that was the first question "What did you do differently?"!
The answer: "We have done nothing different. Reba is still receiving the same dose of fluoxetine which was started in January, 2020. She is in the same kennel and same neighbor since the start of treatments. No changes, just time (5 weeks) with the Calmer Canine treatment have helped Reba's separation anxiety."
Our initial conversations and research indicated the Calmer Canine treatments would take 4 to 6 weeks before we might notice any changes. So 5 weeks is right in alignment with their research.
Had we tried removing Maple, Reba's neighbor dog, before this?
Yes, for very short periods of time with mixed results. We do not have recordings of those occasions so I cannot document the exact day the "change" happened but in conversations with staff it was a mixture of improved and status quo reactions. 
How is she today?
Since April 7th, Reba still has some rough days. She is not always calm when left alone, but overall she has made great progress. The biggest improvement is we no longer see the leaping and pawing at the door that she started with, which is why her kennel is reinforced with a lid and board to prevent her from getting injured. 
What now?
We are continuing her Calmer Canine Treatments and continuing to test and see how she is doing. Our next round of tests will be in a controlled, monitored home environment.